Print this Page
Email this Page
This Week in Global Health
Friday, July 27, 2012
A weekly round- up of selected health news from around the world. Posted each Friday.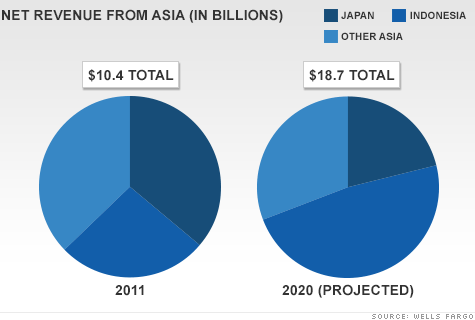 Revenue from Asia is expected to nearly double as more smokers are choosing Philip Morris's premium brands.
WHO urges the Philippine Senate to
'defy' the powerful tobacco lobby
in that country. (WNCT)
A new study finds that office workers typically
burn as many calories
as hunter-gatherers—suggesting that diet, not exercise, may hold the key to the obesity epidemic. (The Atlantic)
The United States is one of 23 countries wherein
maternal mortality is on the rise
, reports Women's ENews.
The tobacco industry in Uganda is deferring their
'contribution' to proposed tobacco control legislation
, claiming they need more time to study the proposed law.
BrandChannel reports on New Zealand's
strong push against Big Tobacco
.
An
upcoming Bollywood feature
is being blasted for its 'blatant' violations of anti-tobacco laws. (Daily News)
Forbes reports on the manifold ways in which
Moroccan mothers are benefiting
from a maternal health 'revolution'.
A
new tuberculosis treatment
is being touted as both faster and more effective than previous iterations. (RTT News)
The San Francisco Chronicle profiles a smoking-cessation program
which offers nicotine patches
as part of the curriculum.
Philip Morris International continues to
reap huge profits
from selling its deadly products in China. (CNN Money)
So-called '
lung spots
' may be less dangerous than previously believed. (The Chicago Tribune)
A public hearing on the controversial
NYC oversized soda ban
attracts an unusual number of participants. (Huffington Post)
Voice of Russia reports on the so-called
Obesity Games
—the effort to ban junk food sponsorship in the Olympics.
Summer's trifecta of
heat, pollen, and pollution
may trigger asthma attacks in children, reports ABC.
A world-famous
cigarette-smoking orangutan
in Indonesia's Taru Jurug Zoo has been sent to an isolated island to kick the habit. (ABC)

Have a news item that you think should be included in 'This Week in Global Health'?
E-mail khamill@worldlungfoundation.org.
Stephen Hamill
Associate Director, Communications and Advocacy
World Lung Foundation