Print this Page
Email this Page
This Week in Global Health
Friday, July 6, 2012
A weekly round- up of selected health news from around the world. Posted each Friday.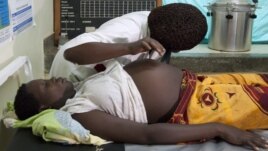 An employee at the Health Care center IV of Busiu in Mbale district, eastern Uganda attends to Mary Watera, who is pregnant with her first baby, September 27, 2011.
Exposure to secondhand smoke has been linked to both
obesity and type 2 diabetes
, reports Medical News Today.
The embryos of pregnant smokers
grow more slowly
, reports the BBC.
Tobacco control activists are
calling on the UN
to rescind an award given to the largest producer of cigarettes in India. (Zee News)
Obesity may cause heart failure—but it also
protects from its effects
, in a puzzling health paradox. (The LA Times)
Teens are
more likely to start smoking
in June and July than at any other time during the year, reports CBS News.
A new project which
provides ultrasound machines
to clinics in Uganda is saving lives, reports Voice of America.
'Roll-your-own' tobacco shops
—which have long exploited legislative loopholes in America—may soon be forced to close, reports the Wall Street Journal.
Could
McDonalds and Coca Cola be banned
from the London Olympics? (One Green Planet)
MedPageToday reports that
heart problems amongst the obese
may be due to more than just excess fat.
Tobacco firms are
actively targeting women
via 'superslim' branding, reports the Irish Sun News.
Triple Pundit argues that
Big Beverage companies
(including Coke and Pepsi) are taking their marketing cues from Big Tobacco.
The Miami Herald reports that
older people with asthma
run greater health risks than their younger counterparts.
An orangutan in Indonesia is being
weaned off of her smoking addiction
—visitors to the zoo regularly throw her cigarettes. (The Guardian)

Have a news item that you think should be included in 'This Week in Global Health'?
E-mail khamill@worldlungfoundation.org.
Stephen Hamill
Associate Director, Communications and Advocacy
World Lung Foundation